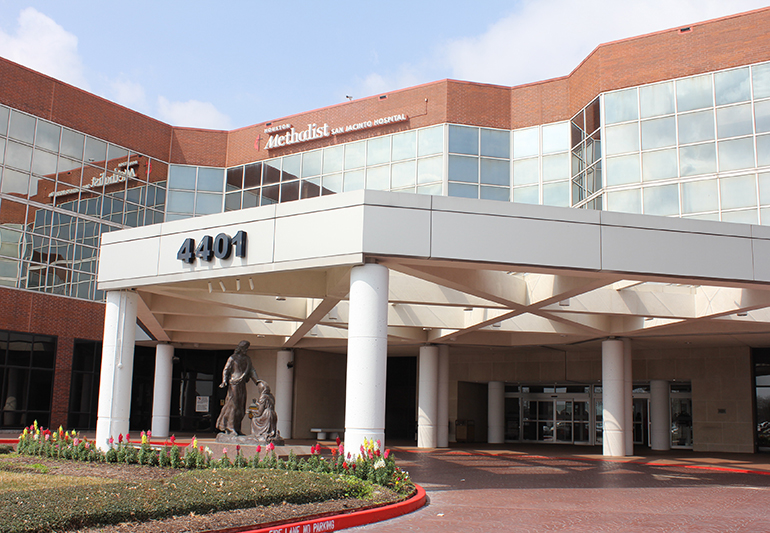 San Jacinto Methodist Hospital
Houston Methodist
Spanning 3 campuses, KAI has completed over
50 projects
for San Jacinto Methodist Hospital, ranging from physician tenant improvements to new construction for a 30,000 SF
acute care rehabilitation center
.  
The Cancer Center Garth Campus
is a 15,000 SF new construction including radiotherapy treatment/ simulator, infusion therapy and oncology clinic.
The Emergency Room / Lab Renovation & Addition
is a 10,000 SF ER renovation and lab addition.
Other Representative Projects within San Jacinto:
 Center for Rehabilitation, Observation Unit, 4 Bed ICU Ward, Post Partum Beds Addition, Conference Center, Diabetes/Audiology Clinic, Atrium Study, Medical Records, Roof Replacement, JCAHO Statement of Conditions, Elevator Enhancement, ICU Addition, Medicare Reimbursement Report, MRI Renovation, Speech Pathology, Decker Long Term Care Facility, Elevator Infill, Fire Safety Plans, Surgery Department Renovation, Human Resources, Pharmacy Renovation, Dermatology Clinic, TDH Code Corrections, Cooling Tower Addition, Independence Plaza I&II, Endoscopy Unit Addition, Surgery Addition, Family Practice Clinic, Crosby Community Clinic, Recovery Room Renovation, HopeStar Orthopedic Clinic, Highlands Clinic, Rehab Unit Addition, Skilled Nursing Facility-Decker Campus, ICU/Observation, MRI, Condominium Regime Documentation, Master Plan Documentation,Long Term Acute Care, Medical Records/ICU, Baycoast LTAC, SNF  Nursing Unit, Baycoast Rehab Unit, Psychiatric Unit, Nuclear Camera Addition, Parking Lot Addition, Alexander Campus Consolidation, Relocation of Financial Services, Cath Lab at Rehab Center, Cabinet Shop/Film Storage Construction, Cardiac Rehab/Diabetes Counseling Unit, Dr. Hernandez-Buck Tenant Improvements, Alexander and Garth Campus Corridor Upgrades, and Medical Staff Offices.
Other Hospitals:
AMD Hospital
Atrium Medical Center
Harris County Hospital
Kingwood Emergency Hospital
Magnolia ER
Providence Hospital
Select Specialty Hospital
St. Luke's Patients Medical
Victory Medical San Antonio
Victory Medical Fort Worth
Victory Surgical Hospital